Now that a local supermart that I go to everyday has closed for redevelopment, I have made the changes and pop by to the local wet market instead. There are lots of gems in this market of course, just that it takes a longer time to move around with the different levels between shops and bigger 'township'. The other difference is that there is no air-conditioning but I've long adjusted to that since we stop air-conditioning at home when utility bills went up, up and up. And the latest I heard, the petrol going on it's 20yr high meant the next quarter utility bill to be at it's 20year high too! *thumbs-down*. One consolation is that I save on car park fees, an ideal Singaporean situation.
I collect kilos of beansprouts from a very masculine lady and her 'girl-friend'. They are both very accomodating and she arranges my sprouts with this dry provision uncle for me when I go late in the weekends when they have already closed for the day. I then walk to the other end to get other stuffs. Last Wednesday, I decided to bring my two girls along as a marketing cum brunch outing since it is the school holiday and they were really bored at home. And at the car park, the girls cheekily fooled along a life-size banner that were thrown at the back lane. So, I grab my camera and shot this.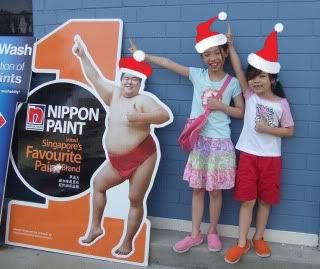 I bet they had great fun.