Lea wailed her eyes out on Tuesday late afternoon on the phone with me. "Mummy, you have not bought any lantern for me to bring over to school tomorrow for the lantern festival!! waaahhh".. sigh.. I had totally forgotten about it, really. I had been so busy at work and all other stuffs on my mind that I didn't think that the lantern festival date was going to be the following day. After all, I thought I would be off on that day but she told me it will be too late because her lantern festival is in the morning and I would be at work. As a matter of fact, when she called me up, I was also at work.. How and what am I going to do.
I asked the helper to dig out the 'old' lanterns but she would not hear of it.. "Mummy, the teacher will punish me because the lantern has no light and the music is dead…waaaahhh.." I told her, why not use the free lanterns that the supermarket gave me the other week, the one sponsored by Resort World.. It's paper and you could light it up the traditional way… "Mummy… the teachers said no candles and if this is paper, all the other children's lantern will squash and flatten mine in minutes..waaahhhh"
The other alternative.. call daddy up. "I'm almost reaching work.. is it urgent?" I told him… i've stalled the customers by another half hour, anyway. "Please stop by the kids store to get her the lantern I promised.. please… " And so he did, dropped it at home and Lea was so happy.. phew.
The following day, she was chosen to be on stage with a few others because her lantern was among the interesting ones and many praised her for it… well, lucky thing.. That night on lantern festival, we brought them to the nearby Park by the Reservoir and new Sports Complex for them to show off the lanterns…
Ready to join them? Let's Go!!
Yippeee… lets be angels and fairies amidst the smokey air..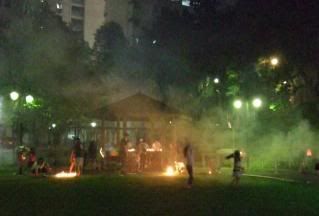 Posing with lanterns Daddy bought at the last minute yesterday.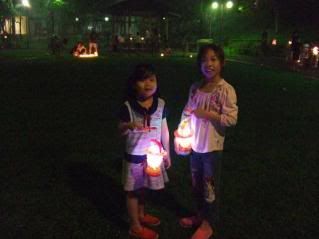 Funny thing was, there weren't many kids with lanterns but there were MANY young adults playing with candles and lighting them all over the park!!