Lea is set to build the world. She loves playing with legos and can just sit and build all sorts of stuff for hours on end.
The other day, she built her own vehicle. Well, I do not really know if it was a big truck, a ship or anything else but she is claiming that this 'thingy' is similar to the Singapore Duck tour vehicle, a big vehicle with wheels and that also floats and propels on water. You can take these little city tour from the Suntec City that will bring you to around the city region then it goes into the Singapore river.. Mind you, as it goes down the steps, it can get a big bumpy.. Both my girls have taken these rides via their kindy/school excursions but not me… perhaps I shall one day.
And so, a Lego vehicle it shall be. Oh and did I mention that this is also a transportation of some kind for her farm animals.. so it is also a Noah's Ark Vehicle, all rolled up in 1!

Them animals are taking a ride too! Taking a breather, windows and stepping up to view the world…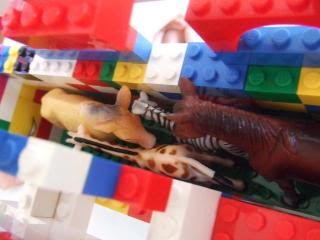 Not too cosy inside but one animal each is fine… Donkey, Giraffey, Zebry and Horsey